Band
Our band consists of some truly amazing musicians.  Bass player Kenny Polcak, quite an accomplished musician, has been playing for many many moons and his harmonies are always magic.  Drummer, Ed Dilley, hits hard and never falters.  Besides impeccable timing he truly enjoys what he does and can be seen throughout the show grinning ear to ear.  Steel pan player, Steve Tove, adds vibrant melodies that makes you yearn for sandy beaches, warmer weather and the smell of salt water.  Keith Esposito, our multi talented saxophone and EWI player (just a few of the many instruments he plays) adds dulcet tones that tie together our music with a beautiful copper bow. 
Our band plays anything from Buffett to Mellencamp to Zac Brown.  This does of course include our own originals.  My originals are written with the intent of sharing a piece of ourselves with the audience.  Each member of the band takes the original song and adds their musical perspective.  The guys and myself love what we do and what we create musically as a band.
When asked what genre we play I have a hard time labeling.  We consider ourselves to be a combination of trop rock and americano with a whole lot in between.
We are looking forward to sharing our time and music with you!  Big Love!!    
Chris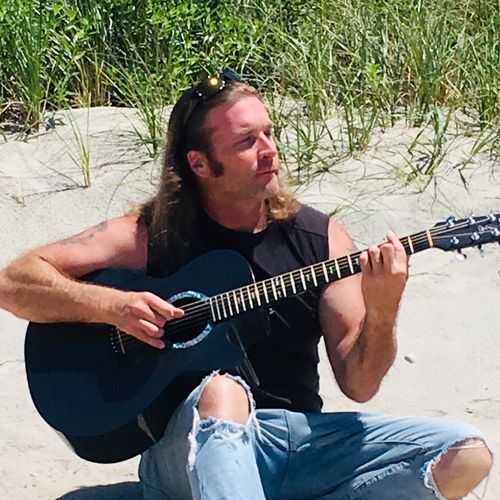 chris sacks
I am Chris Sacks the creator of the Chris Sacks Band.  I am a full-time (past 10+ years) Maryland based musician.  My role in my band is that of singer/songwriter and ringleader.  I truly love what I do and cannot picture myself doing anything but this.  Trust me when I say, you do not want me working in your office.  It would be a whole lot of fun but, not very productive.
I travel the states in search of barefoot beaches and coastal sunsets!  Some say I have Caribbean sea water that runs through my veins.  I guess that may be true!  After the success of our first CD "Nowhere" we were fortunate enough to produce our second successful CD, "Life, Love & High Tides". 
I have grown up on the beaches in Maryland and was able to learn at a young age to not only appreciate that, but also family, and the laid back lifestyle the two create.  I have been lucky enough in my career, averaging approximately 100 shows a year, to travel throughout the states meeting many interesting people.  Anyway you may view it... this is where my songs come from!  I write about my life experiences and others' stories that were shared with me along the way.  I believe that a musician has to create a picture in the audiences' mind by using their words as the paint on the canvas of the soul.  I write my songs to connect to the audience in a way, that they feel, that they themselves are on their own personal journey or are able to revisit a prior one.  So here's to the next step in our musical venture together!
Big Love!!    Chris